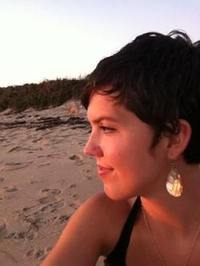 Congratulations to PDR contributor Kendra DeColo on being selected by Muzzle Magazine as one of their thirty favorite poets under thirty. Take their advice and "let Kendra DeColo into your world! She will be here for a minute, and when she becomes one of your new favorites and eventually takes over the world with her poetry, I won't even say 'I told you so.'"
Read the full piece from Muzzle here. You'll also find three of Kendra's poems in our very first issue.
Kendra DeColo is the founding poetry editor of Nashville Review and a book editor at Muzzle Magazine. Her poems have appeared in CALYX, Muzzle Magazine, Southern India Review, Vinyl Poetry, and elsewhere. She is the recipient of scholarships and residency awards from Vermont Studio for the Arts, Bread Loaf Writers' Conference, the Millay Colony, and Kimmel Harding Nelson Center for the Arts. She has taught poetry workshops in prisons, middle schools, homeless shelters, and hospitals. She lives in Nashville, Tennessee.