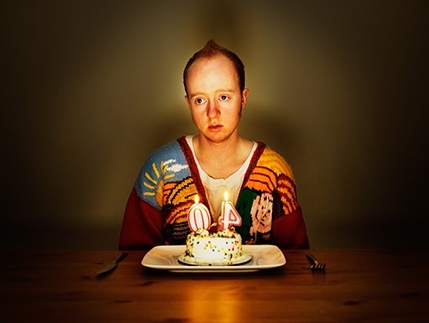 Our current issue features work from photographer Caleb Cole, hailed by inBoston Magazine as "shaking up New England's visual arts scene."
Caleb has received numerous awards for his work and exhibited at a variety of venues, including Gallery Kayafas (Boston), the Danforth Museum of Art, Photo Center Northwest (Seattle), Good Citizen Gallery (St. Louis), Childs Gallery (Boston), and Jenkins Johnson Gallery (NYC). He is represented locally by Gallery Kayafas.
Caleb has this to say about a recent project, Other People's Clothes:
At the heart of my work is a fascination with ambiguities and inconsistencies, an interest in how I go about negotiating areas of grey and how others manage to do the same. When I am in public, I watch people going about their daily routines alone; I wonder about the lives they lead, wonder how they experience the world around them and how they make meaning of it. I spend time inventing stories for them: narratives of isolation, of questioning and searching, of desire, and of confusion. The images in Other People's Clothes are a product of my exploration of private moments of expectation, a visual expression of my experiences stepping into the shoes of the types of people I see on a daily basis. Each photograph in the series is a constructed scene that begins with an outfit or piece of clothing (either bought, found, or borrowed), then a person that I imagine to fill those clothes, and finally a location where that person can play out a silent moment alone. This moment is the time right before something changes, the holding in of a breath and waiting, the preparing of oneself for what is to come. Though I am the physical subject of these images, they are not traditional self-portraits. They are portraits of people I have never met but with whom I feel familiar, as well as documents of the process wherein I try on the transitional moments of others' lives in order to better understand my own.