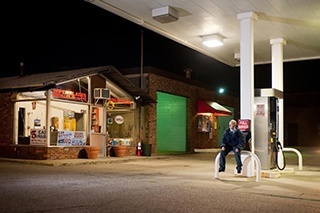 The work of PDR contributor Caleb Cole is featured in a new exhibit at the PRC Gallery at Boston University.
"Framed: Identity and the Photographic Portrait," which runs through October 12, also includes portraits from African American photographer Myra Greene's series My White Friends as well as Lorenzo Triburgo's photographs of transgender men set against painted landscaptes.
A review of the show in The Boston Globe describes some of the self-portraits from Cole's Other People's Clothes:
The ten photographs from Caleb Cole's series … are about constructing whom out of what. Cole chooses an item of clothing or ensemble, imagines the sort of person who might wear it, then finds a location where such an individual might be found. He then takes a self-portrait wearing those clothes in that place. The classic actor's dilemma is whether to assemble a character from the inside out (the Method being the most famous example) or outside in. Cole is an outside-in man. The results range from the melancholy to the amusing. All are distinctive, some disturbingly so.
You can find Cole's series Odd One Out (along with an appreciation by PDR arts editor, Joshi Radin) in our Fall 2012 issue. You can also view the photographs (without commentary) in our online gallery.