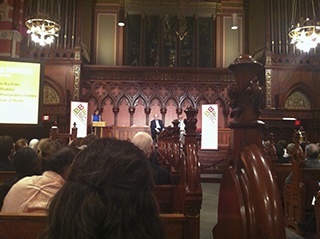 Hundreds of bookish Bostonians lined Boylston and Dartmouth Streets Friday night, waiting to open the fifth annual Boston Book Festival with a keynote presentation from Sir Salman Rushdie, in conversation with Harvard's Anne F. Rothenberg Professor of the Humanities, Homi Bhabha.
After an introduction by Boston Book Festival founder Deborah Porter, Bhabha began by speaking of two kinds of authors - those who bring the past to life, and those who dwell in the afterlife of the past. The first writers have the ability to ground us firmly in the world of the past; the second, to show us the echoes of the past in the present. Two writers who exemplify the latter category, said Bhabha, are Joseph Conrad and Anton Chekhov, from whom we get Joseph Anton, Salman Rushdie's assumed name in the years when he lived under threat of execution, and the name of his memoir, around which the conversation was centered.
Taking the memoir as their starting point, the two old friends discussed topics ranging from the craft of the book itself, which is written in the third person, as a non-fiction novel, to religion, writing in the afterlife of the past, and living in an age of surveillance. Among Rushdie's bons mots was the statement, in response to his critics, that the nice thing about books is that, "if you don't like them, you can shut them."
The Boston Book Festival takes place in and around Copley Square in Boston and lasts through the evening of Saturday, October 19th. It features a wide range of writers and thinkers on a great variety of topics. In addition to the presentations, there will be tents run by bookstores, universities, publishers, small presses, and other stakeholders in the concern of the written word. For more information, visit http://www.bostonbookfest.org/.