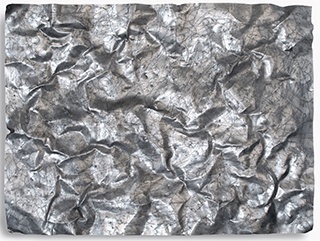 In the Fall 2013 issue, we will be featuring work by Keith Francis. Although Francis's work reaches across media, from gauge cold-rolled steel sculpture to oil and mixed-media paintings, it is unified by its focus on the power of nature—specifically, the transformative forces at work when the ocean meets the land.
The paintings in The Pacific Series, made with a variety of tools in oil paint on canvas, plaster of paris, gesso, and glue binders, capture, in Francis's words,
the greatest meeting of land and water in the world, powerful forces of nature, raging seas, distorted rock formations, land slide deposits, quartz dikes, kelp and vein filled converge at the Point Lobos State Natural Reserve, Carmel, California.
Francis's wall-mounted, cold-rolled steel plate sculptures are based on his photographs and observations of Venice, Italy. These hand-formed, extremely labor-intensive pieces show "the beauty of Venice against a backdrop of decay and rebuilding, in a never-ending struggle to survive against Mother Nature, time and the ocean forces."
Keith Francis is a 1989 graduate of the University of Massachusetts Dartmouth based in New Bedford, MA. His current recent solo exhibitions have been at the University of Mississippi (Ole Miss), University Museum, Oxford, MS (2013–2014), and at the Colo Colo Gallery, New Bedford, MA, Congruence(2013). Current and recent group exhibitions include Giornata del Contemporaneo, The Present Art Space – Milan Art& Events, November 16 – December 2, 2013, Milan, Italy (2013), New Bedford Art Museum, New Bedford, MA, New Bedford Harbor in a New Light (2013), and University of Massachusetts–Dartmouth, New Bedford, MA, New Bedford Harbor in a New Light (2013).