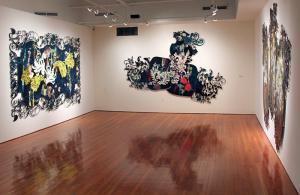 Lush, brooding landscapes of curlicues, spiderwebs, insects, and fruit, all digitally designed and painstakingly cut–this is the world of Resa Blatman, a featured artist in PDR's upcoming issue.
Blatman's sixth solo show is now underway at Ellen Miller Gallery, 38 Newbury Street; her work will be on display through October 18. If you're in the Boston area, you can catch the opening reception on Saturday, Sept. 17, from 3 to 5 p.m.
For more information, visit http://www.ellenmillergallery.com.