Editor
&

Designer

Thomas Dodson
Thomas is a writer, web designer, and academic librarian. Founding editor of PDR, he also developed the website and designs the magazine. He is also the executive editor of Best Indie Lit New England, a print publication series showcasing the finest fiction and poetry published by independent journals in the region. His writing can be found at thomasadodson.com and he blogs about technology and design at techneblog.com. His fiction has appeared or is forthcoming in Beloit Fiction Journal, CONSEQUENCE Magazine, Chicago Quarterly Review, and Conium Review.
Fiction Editors

Gemma Cooper-Novack
Gemma Cooper-Novack is a writer, arts educator, and writing coach. Her poetry and fiction have appeared in more than a dozen journals, including Amethyst Arsenic, Ballard Street Poetry Journal (Pushcart Prize nomination), Bellevue Literary Review, Cider Press Review, Hanging Loose, Lyre Lyre, The Saint Ann's Review, Santa Fe Writers Project, and Spry. Gemma's plays have been produced in Chicago and New York, and her articles have appeared on Feminist Review and Elevate Difference and in NASPA Knowledge Communities. She has been awarded artists' residencies Can Serrat Centro de Actividades Artísticas in Catalonia, the Betsy Hotel Writer's Room in Miami Beach, and betterArts in northern New York, and enjoys baking cookies and walking on stilts in her spare time.

Kate Estrop
In addition to editorial duties for PDR, Kate writes and teaches. She is an adjunct faculty member of literature and creative writing at Lesley University and Emmanuel College, and Co-Organizer of Boston Writer's Meetup. Her story "One New Message" was published in 322 Review.
Kate earned her MFA in Creative Writing from Lesley University in Cambridge, Massachusetts. Born among the cornfields of Central Illinois, Kate has acclimated to city life (almost) and can now be found among the bookstores and coffee shops of Cambridge and Somerville.
Nonfiction Editor

Emily Carroll
Emily Carroll is a freelance writer, editor, graphic designer, and sometime waitress based in Boston, Mass. She is a co-curator of Moonlighting, the Boston Poetry Slam's LGBTQ reading series and a producer of the New Sh!t Show Boston, a monthly performance event celebrating new work in a variety of genres. Her poems have appeared in Umbrella Factory.
Poetry Editors

Bonnie Rubrecht
Since discovering Langston Hughes' work when she was thirteen, Bonnie Rubrecht has spent most of her spare time reading, writing and studying poetry. While living in NYC, she volunteered for Poet's House and was privileged to work at the People's Poetry Gathering in 2003. Now in Boston, she can be found attending readings throughout the city. Her poetry has been published by the GSU Review.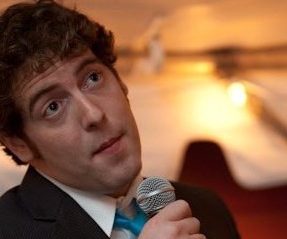 Zach Buscher
Zach Buscher hails from the wild west of Massachusetts. He recently received his MFA from the University of Arizona, where he was a Beverly Rogers Fellow and Poetry Editor for Sonora Review. Now he works in academia, teaching at Quinsigamond Community college in Worcester, MA and tutoring at Pine Manor College in Chestnut Hill, MA. Recent-ish work appears in Back Room Live, Spork, La Petite Zine, Pank, and Best New Poets 2011. He sporadically blogs and tweets at www.zachbuscher.com and @PoetryTwit respectively.
Visual Arts Editors

Jess Blodgett
Jess Blodgett has a constant craving to keep creating. Formerly solely an abstract painter, she has of late branched out into glassblowing as well as collage, painting with wax, and working with anything else she can get her hands on. A self-taught artist, she has been creating since 2004. She counts among her influences color, the region of New England, giraffes and other fine-looking animals, Dale Chihuly, Edward Gorey, and Francis Bacon. She has exhibited in a variety of locations in the Boston and Cambridge area, including the Beacon Hill Art Walk, the SoWa Art Walk, Achilles, the FPAC Gallery Art at 12, Harbor Art Gallery, the Lilypad in Inman Square, and various cafes and restaurants, as well as the Larkin Gallery in Provincetown.

Joshi Radin
Currently pursuing her MFA at the School of the Art Institute of Chicago, Joshi Radin has worked as an editorial/commercial photographer for several years since leaving divinity school. She has collaborated with communities on art projects since 2010, including patients at free health care clinics and residents of public housing facilities and is currently interested in religious and spiritual ritual and death and dying. Additionally, she has taught art to inmates at a women's prison in Framingham, MA. She is a recipient of the New Artist Society Scholarship at SAIC. (Photo by Carl Tremblay).
Previous Staff
Timothy Gager (Editorial Consultant, Spring 2011 – Fall 2013)
Kate Jovin (Communications & Marketing Writer, Fall 2013 – Spring 2014)
Ian Poole (Poetry Editor, Spring 2011 – Spring 2012)
David Taber (Nonfiction Editor, Fall 2013 – Fall 2014)
Chris Willard (Nonfiction Editor, Spring 2011 – Fall 2012)
Emily O'Neill (Nonfiction Editor, Spring 2013)