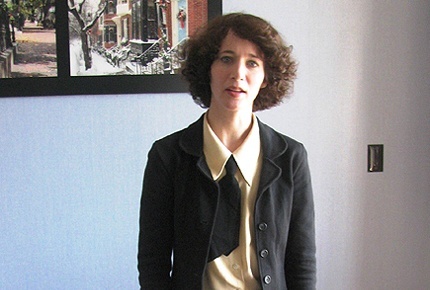 On Friday, April 29, we had a chance to talk with performing artist, fiction writer, and filmmaker Miranda July about her new film, The Future.
Listen to the roundtable discussion with Miranda.
The film centers around a thirty-something couple, Sophie (Miranda July) and Jason (Hamish Linklater), as they consider adopting a terminally ill cat, Paw Paw. Despite their good intentions, Sophie and Jason are terrified of the responsibility and the looming loss of freedom–so, with just one month left before they are due to collect the cat, they decide to quit their jobs to pursue their dreams. The Future is being screened as part of IFFBoston.
The other publications represented at the roundtable were: A Bostonion on Film, The Berkeley Beacon (Emerson University), Technology Review (MIT), and Boston University Daily Free Press.
Special thanks to Stephanie Northern of Terry Hines & Associates for arranging the event and inviting us to attend.