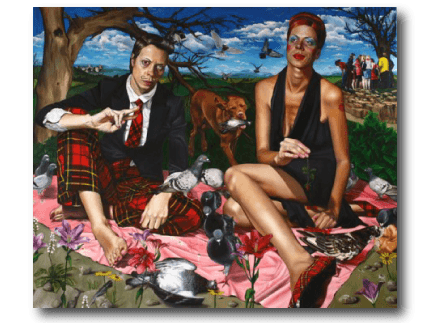 Painter Jennifer R. A. Campbell has agreed to let us use an image of one of her works for the cover of our Spring 2013 issue.
Campbell is a Canadian artist currently based in Boston, MA. She studied drawing, painting and printmaking at the Ottawa School of Art and has been working primarily with oil paint for twenty years. Her last solo exhibition, Random Harvest, was at the Sarah Doyle Gallery at Brown University, Providence, RI. Her work has been shown in Canada, the United States, and Australia.
She says of her work:
My work is a narrative of symbols. The identity of the people in my paintings is suggested by their attributes, often the stereotypical emblems of stock characters. They play roles, they star in ads and movies, in stories both real and imagined. They play the elite, living an endless summer, or rebels, living on the margins of society. The figures become symbols, carriers of meaning through their relationship to material culture and the interaction with each other.

I am inspired by the crisp linearity, bold colours and shallow surface of advertising and poster art. My figures occupy these simulated spaces, like actors in a studio. I concentrate on the surface details of the figures, built up in thin glazes of oil paint to accentuate the artifice of the image.
You can see more of Campbell's work at her website. Several of Campbell's paintings will also be on display as part of the Point and Counterpoint Exhibit, from March 18 to April 18 at the Trustman Art Gallery at Simmons College in Boston. The opening reception will be March 21.
The work pictured above is Min and Bill.