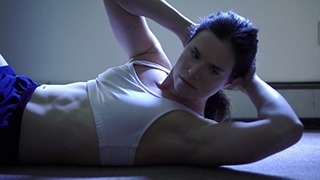 Now in production, the film Nontraditional tells a story about how difficult returning to civilian life can be, especially for women warriors. Writer-director Brian Hauser, whose essay about the H. P. Lovecraft Film Festival was featured in our Spring 2012 issue, is a U.S. Army veteran, a professor of film at Clarkson University and an award-winning screenwriter.
The movie tells the fictional story of a 26-year-old female combat veteran, Erika Byrd (played by Lise "Kat" Evans), embarking on her freshman year of college. Erika served as military police on multiple tours in Iraq and Afghanistan, and she expects that college will be easy for her after what she has been through. However, she finds this transition very challenging, as do many of our returning veterans.
Hauser and his co-producer, Christina Xydias, are currently seeking backers for their Kickstarter campaign with the goal of raising $15,000 to fund editing, musical scoring, color correction, sound mix, and festival submissions. They're close to their goal, but there are only a few days left to back the project.